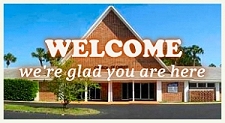 Thank you for visiting our website!
We are a loving congregation of the Lord's church that is dedicated to carrying out the mission of Christ in the city of Daytona Beach, FL. We have a diverse group at Beville Road Church of Christ, with Christians from many different walks of life. We would love a chance to get to know you and your family; we know you will feel welcome here! We are so very glad that you have visited our website and hope you find it helpful in your study of the Scriptures and walk of faith.
ADJUSTMENTS IN LIGHT OF THE PANDEMIC
Due to the Corona Virus, we will assemble ONLY for the Sunday AM Service and Wednesday Bible Study until further notice; updates will be posted here on the website.